Chateau wedding - inspiration shooting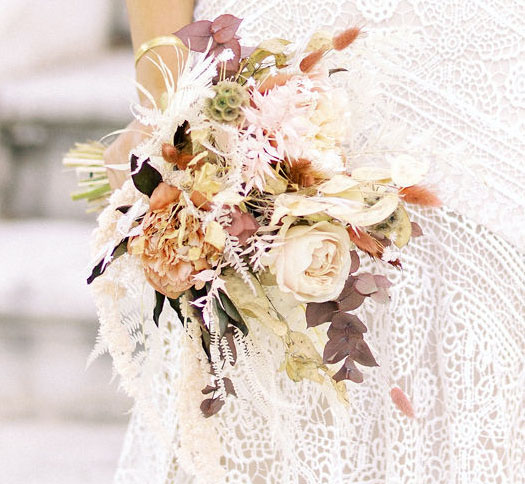 Planning : AM-Weddings, @alinemercierweddings
Model : Valérie, @val_raphael_kaser
Photography : Maïlys Fortune, @mailysfortunephotography
Video : Leonardo Villiger, @leonardovilliger.fineart
Decor & flowers : Wood & Linen,
@wood.and.linen X @asclepiade.art.floral
Dress : Wild Spirit Lovers Bridal,
@ruedeseinebridal at @wildspiritloversbridal
Jewelry : Ann Perica, @annperica
Hair & make-up : Sinem Yavsaner, @sinemyavsaner_makeupartist
Stationery & calligraphy : Ink On Paper et Tiniletters,
Wedding Cake : Charlotte's Kitchen, @charlotte_s_kitchen
Rentals & tableware : Maisons Options,
@maison_options at @options_ch
Location : Château Voltaire, @chateauvoltaire
Bridal shoes : Jimmy Choo, @jimmychoo
A wild, refined and timeless wedding – that is what we wanted to create with this shooting.
To offer our couples a refined yet slightly boho wedding with dried flowers, fine art photography, a beautiful video and professional & understanding vendors, several weeks of creation and choices were necessary. But here is the result – a glamorous shooting, showing our skills, professionalism, and excellency in the wedding industry, our taste for perfectly done work and the will to show our clients that this mix of skills is a great one. Be free to dream of an elopement, a micro-wedding or a gigantic assembly, we will realize it.
Welcome au chateau, let the party started !
Life only started for me the day I saw you. Even during my youth's craziest days, never have I dreamt of such happiness. Every moment spent with you is worth a thousand more than any other moment. When we are together, life tastes of eternity.
I offer you my life and soul, for from this day, you will stay in my heart forever.
One cannot experience everything so I choose the essential, and as there is nothing more perfect in the universe than two lovers, you will be my essential.
Merci à Aline pour cette belle journée, orchestrée à la perfection et pour son dévouement à faire de ce jour une magnifique parenthèse pour tous les deux. Nous en avons encore des étoiles plein les yeux, merci.